Website Creation, Design, Maintenance, and More
Friendly & affordable website design services with a heapin' helpin' of "Minnesota Nice."
MidState Design of Little Falls, Minnesota does website creation, maintenance, hosting, consulting, classes, marketing videos, and much more.
What MidState Design Does
If you have digital needs, MidState Design has exceptional solutions.
If your website isn't mobile optimized, you are being penalized by search engines. That means you're losing visitors, which also means you're losing money.
MidState Design builds responsive websites, ensuring your site will work on mobile as well as desktop.

Maintenance & Hosting
One thing sadly lacking for tech newcomers is a 'one stop' solution that makes building, maintaining, and hosting a website easier.
MidState Design recognized this and put together some excellent options for people who want more bang for their buck, with less overall fuss.
Compare prices. You'll be shocked at the difference.

Website Security
Worried About Hackers?
MidState Design to the rescue! Security is the #1 priority at MidState Design.
Website hardening comes standard with any new project. On top of that, we have strong network and server-side security guarding your investment 24/7. Want to take it a step further? MidState Design is also certified Astra Web Security Partner.
Web Design
Beautiful website designs, using state of the art technology. WordPress is MidState's  specialty. It's the
#1 CMS in the world!
Maintenance
MidState Design has one of the most comprehensive and inexpensive WordPress maintenance packages available.
Website Hosting
MidState offers superb website hosting that is optimized specifically for WordPress websites. Save headaches and host right here!
Social Connections
Have MidState Design connect your WordPress site to your favorite social networks for automatic cross posting.
Search Engine Optimization
Getting your site optimized and submitted to search engines will go a long way toward improving website visibility.
Consulting
Hire Corey for a personal meeting to address any questions and concerns you have about your online presence.
Disaster Recovery
Get highly qualified help when you've found yourself in a bind and need someone to put the pieces back together.
WordPress Training
MidState Design offers classes for a small fee. It's a great chance to learn and get answers to your questions.
Payment Options? You betcha!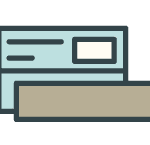 Payment Options? You betcha!