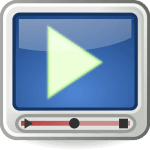 One of the questions I see quite often revolves around adding media content to posts.
Most people are intimidated by the process, and who can blame them? The embed code provided by websites like YouTube are complex in appearance, making little sense to the average 'non-techie' person.
Thankfully, the wonderful folks who work tirelessly on WordPress realized this and provided an alternate method to posting such content.
Simply paste the URL to the media content
into its own line and it will appear automagically!
I know, I know….. it sounds too easy doesn't it? Well, it is easy. Easy as pie!
(It's almost Christmas and I have pie on the brain – Fa la, fa la)
List Of Websites You Can Easily Embed From
• Animoto:  Videos
• Blip:  Videos
• CollegeHumor:  Videos
• DailyMotion:  Videos
• Flickr:  Videos, Images
• FunnyOrDie.com:  Videos
• Hulu:  Videos
• Imgur:  Images
• Instagram:  Images
• iSnare:  Articles
• Issuu:  Documents
• Meetup.com:  Various
• EmbedArticles:  Various
• Mixcloud:    Music
• Photobucket:  Images
• PollDaddy:  Polls & Surveys
• Rdio:  Music
• Revision3:  TV shows
• Scribd:  Documents
• SlideShare:  Presentation slideshows
• SmugMug:  Various
• SoundCloud:  Music
• Spotify:  Music
• TED:  Videos
• Twitter:  Social media (Tweets)
• Vimeo:  Video
• Vine:  Video
• WordPress.tv:  Videos
• YouTube:  Videos
A Couple of Examples:
Embedding A Tweet
NOTE: To find the URL of a tweet, click on the time/date link that appears within the Tweet, then copy URL from browser address bar.
Embedding A YouTube Video
TIP: Always remember that each embedded item *must* be placed on its own line in the text editor for this to work. Otherwise a simple link will appear.
Conclusion
It is incredibly easy to embed media on your WordPress site. Why not get busy, and get embedding today?